We all have the right to feel safe at work, but this was not always the case. Not until the creation of the Occupational Safety and Health Act (OSHA) did workplaces have a legal obligation to keep their workers safe, including protecting their hearing.
What Is OSHA?
The Occupational Safety and Health Act (OSHA) was created in 1970 to offer employers clear guidelines, standard protections and safety regulations to follow to keep their workers safe from heavy machinery and other hazards in the workplace.
Hearing Regulations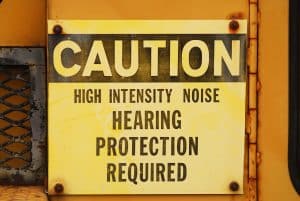 Employers must follow a number of basic regulations if their employees are exposed to noises above 85 dB. With each additional decibel over the legally-safe level, the quantity of time employees are allowed to be exposed to such sounds per day decreases.
Employers must create a hearing conservation program if they have any employees who are exposed to sounds louder than 85 dB for eight hours or more a day. This program requires them to monitor all continuous and intermittent noises between 80 to 130 decibels.
All employees must be informed about the dangers of noise induced hearing loss and the additional health risks that go along with this disorder.
Any employee working in an environment with loud noises must be given a baseline audiogram within six months of employment. They will then be provided with a yearly audiogram completed by a certified audiologist at no cost. The results of this exam will be compared to their baseline audiogram to measure any hearing loss.
Employees must be provided with hearing protection options if they are exposed to dangerously loud decibels.
Employers are required to hold trainings about hearing protection for all employees who are exposed to loud noises.
Employers must keep records of their employees' exposure to noise.
Rights of Workers
With the passing of OSHA, all employees have the right to a safe workplace free from noises loud enough to harm their hearing.
Employees have the right to request that a representative from OSHA inspect their workplace if they think their employer is not complying with safety requirements.
Employees must receive training in a language they understand about the potential hazards of working in a noisy environment and how to properly protect themselves.
If requested, employees must be provided with a copy of their audiograms and health records related to illnesses or job-related injuries.
And most importantly, employees are protected from retaliation or discrimination from their employer for exercising their rights.
To learn more about protecting yourself or your employees, contact the experts at Today's Hearing.
Learn More About Hearing Loss