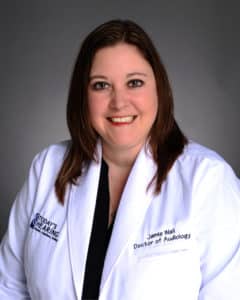 Dr. Jamie Wall, Au.D., F-AAA
Doctor of Audiology
Dr. Jamie Wall has been with Today's Hearing since 2015. She has practiced audiology in multiple areas over the years, primarily working in ENT and clinical settings. She received her master's in audiology from Louisiana Tech University in Ruston, Louisiana in 2000, and her doctorate from A.T. Still University in Mesa, Arizona in 2008.
Dr. Wall has proficiency in diagnostic audiology, cochlear implants, auditory processing disorders and hearing aids. She has had training with fitting Oticon, Resound, Phonak, Starkey, and Widex hearing aids, along with Cochlear implants.
Dr. Wall is happily married with a daughter and two dogs. Originally from north Louisiana, she enjoys traveling, reading, spending time with her family and watching football. Dr. Wall is an avid LSU and New Orleans Saints fan.