Once you have your hearing tested, the next step is to be fit with a set of hearing aids. There are many types and styles of hearing aids on the market, and the choices may be overwhelming. Fortunately, your audiologist will be with you every step of the way. We've compiled some pros and cons of common styles to help you get started.
Invisible in the Canal (IIC) & Completely in the Canal (CIC)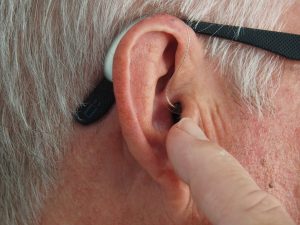 IICs and CICs are the smallest, most discreet devices available. They are worn deep in the ear canal and are virtually invisible to others. Because of their small size, they are usually worn by people with mild to moderate hearing loss and typically don't have manual controls.
Pros:
Most discreet styles
Good sound quality due to fit within the ear
Cons:
Prone to earwax and moisture damage
Small size may cause problems for people with dexterity issues
Small size may mean trouble connecting to wireless devices
In the Canal (ITC)
ITCs are larger than IICs and CICs, making them more visible. However, they also have a slightly longer battery life and are suitable for a wider range of hearing losses. Their size also means they tend to come with more features like directional microphones and manual controls.
Pros:
Fairly discreet
Longer battery life than IICs and CICs
More features than IICs and CICs
Cons:
Also prone to earwax and moisture damage
Can cause plugged up feeling in the ear
Small size may mean trouble connecting to wireless devices
Behind the Ear (BTE)
BTE devices sit behind or on top of the outer ear and have tubing that routes sound from the processor to the earmold. They are available in many colors to match your aesthetic preferences, and some models are rechargeable. This style is most commonly recommended for children because the earmold can be replaced as the child grows.
Pros:
Suitable for all degrees of hearing loss, including profound hearing loss
Most can connect wirelessly to other devices
Custom earmold can be replaced easily
Less prone to moisture damage
Cons:
Can cause plugged up sensation
Space limitation for glasses wearers
Not as discreet
For more information or to schedule an appointment, call Today's Hearing.
Learn More About Hearing Aids