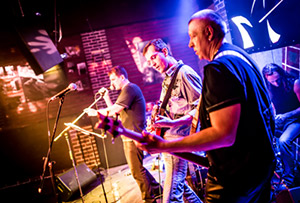 Custom, In-Ear Monitors
Musician's ear monitors were developed especially for musicians, to help protect their ears during loud concert performances while allowing them to hear the music mix in their ear at a much lower volume. Dr. Harrison has extensive experience working with musicians and sound engineers to design and implement hearing conservation programs. She has worked with world-renowned bands such as U2, Aerosmith, the Dave Matthews Band and many others.
Sensaphonics makes custom-fit earphones and earplugs that are designed to block out harsh, loud sounds and protect the inner ear from damage. These plugs are custom fitted and designed to perform well in loud settings. Musicians aren't the only ones who use these products; NASA engineers, churches, theaters, broadcasting and communication stations, people in motorsports, and many others depend on Sensaphonics products for hearing protection.
Sensaphonics also makes earplugs for concertgoers who want to enjoy the music while protecting their ears from damage resulting from harsh, loud volumes encountered during concerts. These earplugs reduce the volume to a level that is comfortable and healthy for your ears while still maintaining quality sound.
Dr. Harrison is the only Sensaphonics Golden Circle audiologist in the Houston area. If you are interested in learning more, come in for a consultation and get fitted with an amazing in-ear monitoring system.
Call Today's Hearing at (281) 578-7500 for more information or to schedule an appointment.