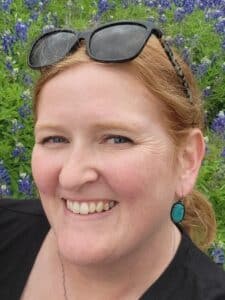 Rachel Ross
Hearing Aid Technician
Rachel Ross is our hearing aid technician at Today's Hearing. As a former science teacher for 15 years, she worked to mold young minds, instill a love for learning and help her students approach the world with curiosity. In other words, Rachel has excellent people skills! She absolutely loves helping patients with their hearing aids and ensuring they are working properly.
Rachel earned her bachelor's degree in education from Texas Tech University in 2006. In 2022, she decided to make a career change and join our Today's Hearing family.
In her spare time, Rachel enjoys crafting, quilting and traveling with her husband and baby. She lives nearby with her husband, their son, two dogs, three geckos and fish.
"My colleagues at Today's Hearing are simply the best. We enjoy forming relationships with everyone who comes into the office. Everyone on staff wants to help our patients have the best experience possible. We love getting to hear about what is going on in their lives, as well as the differences they have noticed since they started hearing again."