Spread the Word about Healthy Hearing with Our New Referral Program!
Hearing loss is a very common issue affecting an estimated 48 million people nationwide. In fact, hearing loss is the third most common physical health condition in the U.S. after heart disease and arthritis. Despite how many people are suffering from hearing loss, only 1 in 5 seeks the help they need. That's why Today's Hearing is introducing a brand new Friends and Family Referral Program!
If you're concerned one of your loved ones may be suffering from hearing loss, it's important to act now. Left untreated, hearing loss increases risk of developing serious health problems including dementia, Alzheimer's disease, depression, anxiety, and more. The sooner we identify and treat a hearing loss, the better a person's chances of avoiding related health problems, finding an effective treatment, and preventing the development of more severe hearing-related conditions.
Identifying the Signs of Hearing Loss
Hearing loss develops gradually over time, so it can be easy to miss the signs and symptoms for months or even years. People often allow their hearing loss to progress until it's impossible to ignore; however, early intervention and treatment is vital to a finding a solution for a healthy, happy lifestyle. Some of the most commonly noticed signs of hearing loss include:
Frequently asking people to repeat themselves
Accusing others of mumbling or speaking too quickly
Struggling to follow conversation when background noise is present
Turning up the volume on the television or radio
Avoiding social gatherings and/or noisy settings
Share That You Care
Have you noticed any signs of hearing loss in your friends or family members? Don't wait to offer a helping hand—spread the word about our hearing screening services! We offer complimentary hearing screenings to all patients interested in taking control of their hearing healthcare. We invite you to print out this referral card to hand out to your loved ones. A referral really is the best compliment you can give us, and we thank you for trusting us with your hearing care—and that of your friends and family members!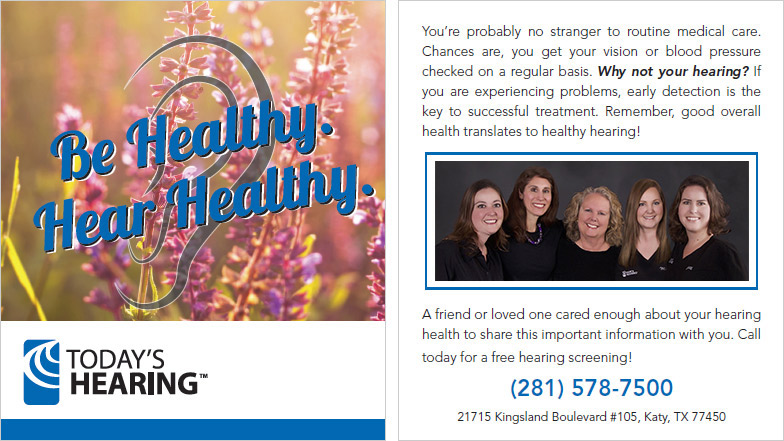 Loyalty Program
At Today's Hearing, we value our patients and want to reward them for entrusting us with their hearing healthcare. When you visit our clinic, you'll receive personalized attention and a whole bunch of extras, including:
Free supplies and services for one year
Free gift from Tiffany's with the purchase of a hearing aid
Free gift from Tiffany's for referring a new patient
And lots more including product discounts and a patient appreciation party!